Charlie Dean starred with four wickets and 36 runs as England beat New Zealand by 13 runs in the second one-day international at Old Trafford on Tuesday.
Worcester, Worcester, Worcester, Worcester, Worcester, Worcester, Worcester, Worcester, Worcester, Worcester, Worcester, Worcester
Wyatt 63*, Kasperek 3-31, Rowe 3-41, England 197 (43.3 overs)
Halliday 29, Dean 4-36, Cross 3-43, New Zealand 169 (39 overs)
England won by 13 runs (DLS method), taking a 2-0 lead in the series.
Scorecard
In a tight second one-day international at Worcester, England edged out New Zealand by 13 runs to take a 2-0 series lead. Charlie Dean bowled a brilliant session.
Dean, a rookie off-spinner, took 4-36 in just her second ODI as the White Ferns fell from 111-4 to 161-9 chasing a revised 183 from 42 overs following an hour's rain delay.
The visitors needed 21 runs from the last 24 balls, but they failed to rotate the attack after losing wickets often, and were bowled for 169 with 18 balls left.
England had previously battled with the bat, falling to 145-9 after a succession of reckless strokes, but Danni Wyatt saved them with an unbeaten 63.
To help them reach 197, Wyatt put up a 51-run partnership with number 11 Tash Farrant, which was an England ODI record for the final wicket.
New Zealand's bowling was outstanding, particularly Hannah Rowe's 3-41, while the England middle order was often dismissed due to rash strokeplay and running.
Seamer Kate Cross starred in the early rounds, taking 3-43 and reducing New Zealand to 85-4, but they were ahead when the rain came, and they will know they let a good position slip away.
On Tuesday at 13:00 BST, the third game of the five-match series will be played at Grace Road in Leicester.
Dean Has England On The Verge Of a Victory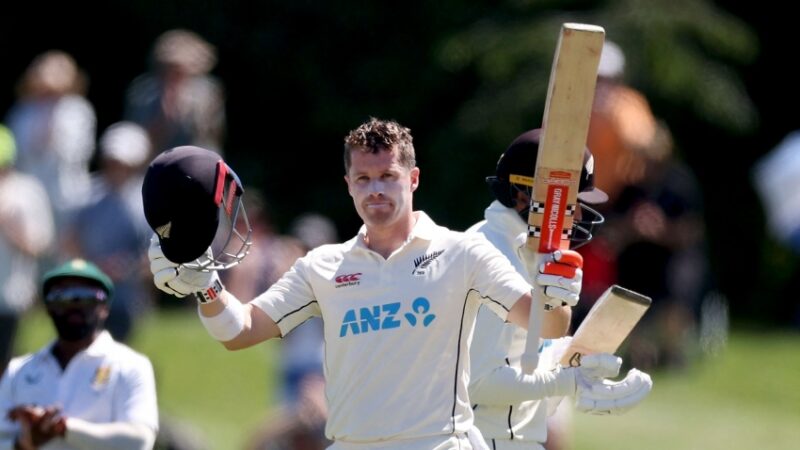 The rain may have come at an inconvenient moment for New Zealand, but it should not detract from Dean's wonderfully mature performance.
Katey Martin was bowled through the gate with a faster, flatter ball before Rowe was trapped lbw in front of her stumps.
Brooke Halliday seemed to be the most likely player to lead the visitors to victory, but she was slowed by England's tight bowling, and her reckless dash down the wicket towards Dean resulted to Amy Jones' easy stumping.
Dean's face lit up with delight as she was hugged by her teammates, knowing that she had helped England to victory.
England will be delighted with how they recovered from a bad batting effort, led by Cross early on before Dean excelled towards the end.
Sophie Devine, the Kiwi captain, was under a lot of strain, but she had placed New Zealand in a good position with her controlled aggressiveness before the rain came.
When play restarted, though, the visitors failed to establish any rhythm, allowing England to claw their way back into the game.
Better teams than the White Ferns, on the other hand, will make them pay for similar batting performances in the future. England will be aware of this, and will be aware that they must improve as they prepare to defend their World Cup championship in New Zealand next spring.
In the Midst of England's Batting Doldrums, Wyatt Shines
England's batting was not particularly impressive, as they were undone by a succession of bad strokes and some disciplined New Zealand bowling.
Tammy Beaumont set the tone when she was bowled off a Devine delivery after hitting three fours in her previous five innings.
Both Nat Sciver and Jones went too hard too fast, dropping easy catches to cover and short mid-wicket, respectively, while skipper Heather Knight fell to a beautiful, late swinging ball from Rowe. It was a disappointing performance at a time when England needed consistency and a dominating innings from their older players.
With England on 85-5, a comedic run-out was all that was required to save the innings. Lauren Winfield-Hill, who had held her nerve despite her team losing four wickets for 26 runs, found herself at the same end as Wyatt and was easily run out.
Wyatt has been in and out of the England 50-over squad, and the fact that this is her highest score in a home ODI demonstrates how inconsistent she has been.
She did a fantastic job at Worcester. She seized command of the partnership with Farrant, hitting two sixes and rotating the strike sufficiently to enable Farrant to play a few more strokes.
It demonstrated maturity, something she has been criticized for in the past, and it will make England's next squad selection more difficult.
'England Has No Idea When They've Been Defeated.' – Research
"It's going to be very hard for New Zealand to come back from this," England all-rounder Georgia Elwiss said on Test Match Special. England is having fun in the fight, in the struggle, and in making victory a habit. New Zealand, on the other hand, is experiencing the exact reverse.
"It was again another fantastic cricket match. When England is defeated, they just do not know what to do. The fact that they can keep crossing the finish line will instill confidence in them, not only in this series but also in the Ashes and the World Cup."
"We're very upset," says New Zealand skipper Sophie Devine. We felt we did a fantastic job bowling England out for a low score once again.
"We back ourselves to win those kinds of games, rain break or no rain break, so we've got to pick ourselves up, brush ourselves off, and go again on Tuesday."
"Winning is a habit, and we haven't practiced it in a long time. We need to figure out a method to accomplish it."
Heather Knight, England captain: "It was nerves of steel, wasn't it?" With the bat, we were below average – it was a weary batting effort with several easy dismissals.
"Charlie Dean's bowling was fantastic, and my bowling strategy had to alter around 20 times because she kept getting wickets. We need to improve, but it was wonderful to see how hard we fought and come out on top."